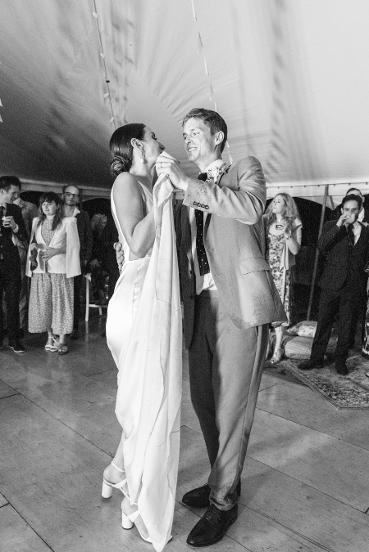 Connie and Arthur
Chris and Debbie couldn't have made more of an effort to ensure the best possible experience for our big day. Friendly, knowledgeable and extremely agile with last-minute changes, Chris went the extra mile to see that we had the best possible set-up for what we wanted. These are people who really care about what they do and how they make people feel. They are an absolute delight to work with. We could not recommend them more!"

– Constance and Arthur Oke
Please see their wedding which was featured in Vogue
https://www.vogue.com/slideshow/constance-chamberlayne-arthur-oke-wedding/amp
La bonne fête were amazing from start to finish. Our wedding was initially planned for July 2020, with the inevitable Covid delays it didn't end up going ahead until June 2022. Chris was really helpful and supportive the whole way through making sure we had a date booked in and keeping us up to date. When it came to the big day, Chris and his team were really friendly helpful and ready to get on with it. My wedding vision was coming to life before my eyes from the beautiful marquee with festoon lighting to the lighting structure over the dance floor it was truly magical. They put it all up so effortlessly, it put everyone at ease. They were willing to go above and beyond to help and really got stuck in. There were weather concerns on the day so Chris stuck around to make sure everything ran smoothly and was there incase the sides needed to go on the marquee. Our big day was perfect from start to finish and we can't thank him and his team enough. Would fully recommend, if you're looking for a beautiful outdoor wedding scene with friendly and helpful customer service who will go above and beyond to help, then Chris is your guy. David & Rhian - June 2022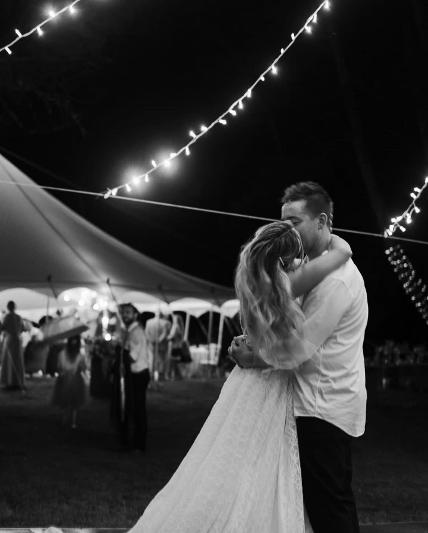 Working with Chris and La Bonne Fete was a great experience! Our wedding planner immediately recommended La Bonne Fete when we initially discussed tents due to the quality of their equipment and ease of working with them. The size of our guest count changed significantly over a short period of time and La Bonne Fete was extremely flexible in accommodating our changing needs. We were able to work with them on a great final arrangement - a 12x12 meter tent with a 6x6 meter uncovered dance floor with lights! Chris was present on the day of setup and the wedding to make sure everything went well and also supervised attaching the tent sides when we decided day-of that it might be too chilly otherwise. Chris stayed the entire evening to make sure that our experience went smoothly and was very personable in making sure we had what we needed from La Bonne Fete. The photos speak for themselves, but the quality and look of La Bonne Fete's tents is fantastic - they contributed to and elevated the experience of our guests and maintained the aesthetic we wanted for our destination wedding! We can't recommend La Bonne Fete enough. Thank you!
Mike and Kate
"Dearest Debbie, Chris and Kate, We know how incredibly hard you all worked to make our day the Best Party Ever!! We had an amazing time and you helped to make everything so special"
Laura and Pete
"It was totally Awesome. You guys were amazing. Thank you sooo much"
Dave and Ange
"We just got back from France and wanted to drop a quick line to say thank you Everything went smoothly and we had lots of comments how amazing the marquee looked! The men who set it up were also professional and friendly so thank you to them as well"
Grecia and Adam
"Thank you Debbie. It turned out awesome"
Susan and Paul
"Thank you. It was a beautiful day and the marquee was fabulous, just perfect for our setting. Thank you for making it look beautiful,"
Linzi and Luke
"Me and Luke would just like to say a massive thank you for doing such a wonderful job at our wedding. The ceremony looked absolutely stunning and the petal marquee was out of this world. You done such a fantastic job with setting up Our tables and everyone said how beautiful it all looked. So once again thank you so so much for everything Kind regards Luke & Linzi."
Fran and Max
"Where do we begin to thank you for the most amazing wedding weekend ever! Over the 10 months planning the wedding we have come to know you both very well and we think you are both amazing people. Your dedication,passion and professionalism to creating the perfect wedding event is beyond exemplary-we will be recommending "The Bonne Fete" to everyone!! Steve and I hope that we see you again soon-thank you so much. much love Steph and Steve x x x x x"
Olga Hartnady - Oh Weddings
"Thank you and Chris very much, you did the most fantastic job and I was very very happy with your beautiful items, it was a beautiful and stylish event thanks to you"
Rebecca and Adam
" Thank you for making our day so special"
Tiffany and Cyril
"thank you to you and Chris for all the work you did to make our wedding so magical!!"
Lydia and Ed
"We all want to thank you for the superb job you did on decorating the barn. We were delighted with it and have had so many positive comments from people, both on the day and afterwards. To quote but a few, 'the barn definitely had the wow factor', 'you created a magical atmosphere', 'the barn was a stunning area for the reception'. The marquee with the dance floor was perfect for the drinks reception and of course the dancing later on"
Alice and James
"Dear Chris, Just want to thank you once again for this amazing day you helped us create. All the best in the future."
Matt and Gro
" Gro and I just want to say a massive thanks for all your hard work and help over the course of our wedding. Now things have settled down we can reflect on what an amazing job you did for us and we are truly thankful for that. Many thanks for being and making our most special day so wonderful and one we will never forget."
Joy and John Milton
"Hi Debbie and Chris! Thank you again for everything! The whole weekend was a dream come true from start to finish - le mariage on n'a jamais eu! John and I can't thank you and your super équipe enough! La Bonne Fete Dordogne - The amazingly Bonne Fête! The ideas, the decoration, the organisation, the salle, the food, the service - incredible. WE LOVED IT!! Hope to see you when we get back from our trip - will share our photos then and thank you again in person. x Gros bisous à tous les deux!"
Sophie and Haldje
"The marquee and accompanying lighting, chairs, tables etc were all just as we had hoped."
Caroline and Simon
"Our marquee was supplied by a local company called La Bonne Fete. They were absolutely fantastic, helping us the day before setting up, and also on the day they helped with serving drinks and ice cream. We hired their vintage bike from which ice cream was served, and we also hired their vintage teacups. They have lots of other vintage style options which is actually quite hard to find in that part of France, so I was really pleased to find them and I can't recommend them enough."
Jill and Julien
"Dear Debbie, Chris and the rest of the team, we just wanted to say a huge thanks for all your hard work, which really paid off and made our wedding day perfect, even with the bad weather! We are really grateful and will send you some photos soon. Lots of Love Jill and Julien."